Rosemary & Peppermint Herbal Deep Conditioner (16oz)
Description
Do You Want To Transform Your Hair? Well look No Further! The Rosemary & Peppermint Herbal Deep Conditioner is infused with Nettle Leaf, Horsetail, Lavender Flowers and Essential Oils to Bring Nourishment to your Scalp and Hair Strands! THERE IS NO OTHER PRODUCT Like this on the Market. Made with Real Organic Ingredients that makes a Difference in your Hair.
Main Ingredients:
Nettle Leaf: 
Not only does nettle help in combating hair loss, it also helps in hair re-growth. Nettle leaves are rich in silica and sulphur. This helps in making hair shinier and healthier.
Horsetail:
 Horsetail plant is also known to improve blood circulation which helps to lead to healthier hair follicles. Horsetail can be used for both men and women to help with the battle of thinning hair. The main reason why the herb is believed to be able to help stimulate hair growth is because of its antioxidant effects.
Lavender Flowers: 
Lavender also has antimicrobial properties. This means it helps prevent bacteria and fungi from growing. When applied to hair or scalp, this may prevent common hair or scalp issues. In particular, it may prevent itchy scalp or dandruff and even infections.
Rosemary Oil: 
Rosemary essential oil strengthens circulation. As a result, it could prevent hair follicles from being starved of blood supply, dying off, and leading to hair loss.
Beyond stimulating hair growth, rosemary essential oil is used to prevent premature graying  and  dandruff. It may also help dry or Itchy Scalp.
Peppermint Oil: 
Peppermint oil can cause a cold, tingling feeling when it increases circulation to the area it's applied to. This can help promote hair growth during the anagen (or growing) phase. One study found that peppermint oil, when used on mice, increased the number of follicles, follicle depth, and overall hair growth.
Contains: Aqua, Btms-50, Cetyl-Alcohol, Rosemary oil, Peppermint oil, Nettle Leaf, Horsetail, Lavender Flowers, Lavender Oil, Black seed oil, Grape-Seed Oil, Pumpkin seed oil, Tea Tree Oil, Hydrolyzed Wheat Protein, Optiphen. 


Shelf Life 2 Months
Customer Reviews
Write a Review
Ask a Question
Filter Reviews:
scalp
conditioner
hair
Charmaine
peppermint
results
smell
rosemary
shampoo
hair growth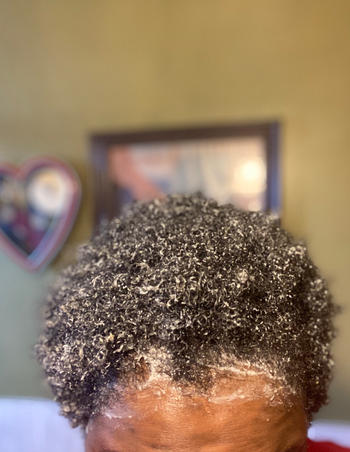 09/01/2020
I recommend this product
BEST DEEP CONDITIONER EVER!
Nah this deep conditioner is the truth!!!! My scalp feels amazing!!!!!!! The smell, the consistency of it and seeing the infused herbs! Love it! I wanna leave it in forever Highly recommend.
Alisa

United States
07/29/2021
I recommend this product
Wonderful Product
I love the Rosemary & Peppermint Herbal Deep Conditioner!!!
Racquel G.

United States
07/28/2021
I recommend this product
Rosemary & Peppermint Herbal Deep Conditioner
It is working very well. I love how it makes my scalp and hair feels. I love it❤️
Anonymous

United States
07/22/2021
I recommend this product
The best deep conditioner!
This amazing conditioner leaves my scalp feeling so good.
Patricia W.

United States
07/17/2021
I recommend this product
Deep conditioner
This conditioner helps my Alopecia feels great on my scalp
Sybil M.

United States